Merseyrail (2014) Livery
Merseyrail introduced a new corporate livery to its Class 507s and 508s from February 2014 as part of an £8.5 million improvement package for the fleet. In a first for production PEP stock, this livery uses different base colours on each side of units, and is composed of large vinyl wraps akin to the two recent Merseyrail advertising liveries.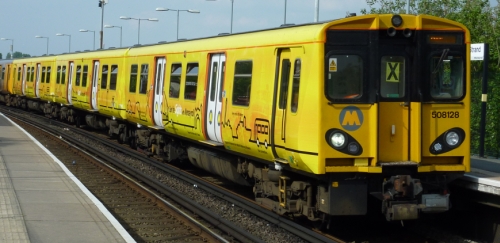 508128 shows off the yellow side of its 2014 Merseyrail livery as it pauses at Bootle New Strand. It leads 507009 on the 15.58 to Hunts Cross on Sunday 18/05/14.
Photo © James Ross
Livery Summary
All carriers
507010/011/016/017/018/021/027/031
508108/114/115/122/126/128/139
Current carriers
507010/011/016/017/018/021/027/031
508108/114/115/122/126/128/139
Total
15 sets (57 to be re-liveried)
First
507011 (February 2014)
Last
-
Livery Description
The new livery marks a significant departure from the previous 2003 livery, using a much more vibrant and modern design.
One side of each unit features a yellow background, with the other side predominantly grey. On each side, carriages feature graphics and taglines which promote local attractions throughout Liverpool and the wider region as well as showing ways for commuters, shoppers and students to make the most of their journey.
Complete vinyl wraps are used to cover the bodysides. The re-livery process involves the previous 2003 livery being removed, followed by corrosion repairs and the new vinyls then being placed onto the carriages.
Front ends are not being re-vinyled. Instead, their yellow sections are repainted and the 'M' logo replaced adjacent to the set number. The overall appearance of the front ends is unchanged from the previous livery.
The livery was designed by the Chester-based firm Good Communications, who had previously worked on Merseyrail's advertising campaigns and website design. It was applied in-house at Birkenhead North depot by industry specialists Stewart Signs, continuing a long-standing associaion wih Merseyrail.
Unlike its predecessor, a graffiti and weather-resistant coating known as 'Signshine' has been applied over the livery, a signature product of Stewart Signs. This should allow the vinyls to endure signifcantly better than the 2003 livery.
The first recipient was 507011, which entered Birkenhead North Depot on 24/01/13 for its makeover and was followed by 507017 a week later. The new livery was launched with a photoshoot on 06/02/14. 507011 and 507017 entered service on 10/02/14 on the Ormskirk and Chester routes respectively, the first units in the new colours to do so.
508122 was the first of the Class 508s to receive the new livery. It went into service on 20/02/14 in the new colours.
Units are being steadily re-liveried at a rate of approximately one per week. The work includes 57 of Merseyrail's fleet (all units except 507002 and 508111) and is expected to continue until Spring 2015.
The yellow side features shopping, the coast and the sights themes. Doors are white with orange surrounds and an 'M' logo on each. On both sides of the bodywork, images of people make up the background. Black outline images display representations of amenities and activities, connecting using Merseyrail map lines. Captions are displayed beneath each outline.

507017 is pictured at Hamilton Square on 10/02/14 heading into Liverpool.

Photo © James Ross

The join between a unit in 2014 livery (507017) and a unit in 2003 livery (508134). Both units were forming the 16.36 West Kirby - Liverpool - West Kirby service on 25/02/14.

Photo © James Ross
Livery Variations
The first two 508 recipients both went into traffic with the fitting of front end 'M' logos inadvertently omitted. 508122 has the logos missing at both ends, whereas on 508114 only carriage 64662 is affected.

508122 is seen here calling at James Street on 25/02/14 working the 17.15 from Chester.

Photo © James Ross
Livery Dates
| # | Unit | Start | End |
| --- | --- | --- | --- |
| 1 | 507011 | February 2014 | - |
| 2 | 507017 | February 2014 | - |
| 3 | 508122 | February 2014 | - |
| 4 | 508114 | February 2014 | - |
| 5 | 507031 | March 2014 | - |
| 6 | 508115 | March 2014 | - |
| 7 | 507027 | March 2014 | - |
| 8 | 508128 | March 2014 | - |
| 9 | 508139 | March 2014 | - |
| 10 | 508126 | April 2014 | - |
| 11 | 507021 | April 2014 | - |
| 12 | 507016 | April 2014 | - |
| 13 | 507018 | May 2014 | - |
| 14 | 508108 | May 2014 | - |
| 15 | 507010 | May 2014 | - |